RANGAT SUB-DIVISION
The Sub-Division Rangat has four (04) Police Stations under its control viz (1) PS Billiground, (2) PS Rangat, (3) PS Kadamtala and (4) PS Baratang. The contact number of the SDPO(Rangat) office is Contact No. 03192-274646(O), 9531856294(M).


Baratang Police Station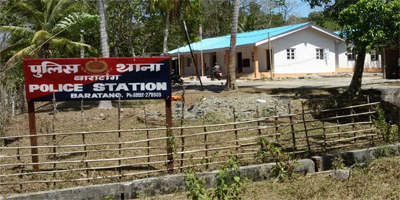 About the Baratang Police Station
Phone No: 03192-279503
The area of Baratang is covered with in Baratang Island (25 Km) and extends to Middle Strait up to Potatang (10 Km). One JPP Middle Strait comes under this PS. There are around 4400 people settled in Baratang. Out which 90% population is from Ranchi community. It is important from tourist point of view as Lime Stone Cave, Mud Volcano and Parrot Island are situated in this PS Jurisdiction. A large number of tourists visits these tourist spots everyday. This Police Station covers 02 Gram Panchayats viz. (1) Nilambur & (2) Sundergarh.