DIGLIPUR SUB-DIVISION
The Diglipur Sub-Division has three (03) Police Stations viz. (1) PS Diglipur, ( 2) PS Kalighat and (3) PS Mayabunder. The contact number of the SDPO(Diglipur) office is Contact No. 03192-272243(O),9434285670(M).


Diglipur Police Station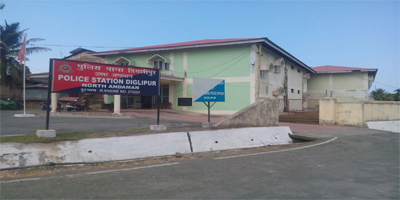 About the Diglipur Police Station
Phone No: 03192-272223
The area of PS Diglipur spreads from Kalara Junction to Diglipur (12 Km), Diglipur to Hathi Level (35Km) and from Diglipur to Lemiya Bay (25 Km). There are 02 Out Posts viz OP Sagar Deep and OP Radha Nagar and 02 LOPs viz LOP East Island and LOP Narcondum functioning under this PS. The population of PS Diglipur is around 46,000 mixed with Bengali, Malayali and Ranchi population. Diglipur township is thickly populated. The places of tourist attraction like Saddle Peak National Park, Mud Volcano at Hathi Level, Kalipur Sea Beach, Ross & Smith Islands are situated under this Police Station jurisdiction. This Police Station covers 10 Gram Panchayats viz. (1) Diglipur, (2) Subashgram, (3) R.K.Gram, (4) Sita Nagar, (5) Keralapuram, (6) Radha Nagar, (7) Laxmipur, (8) Madhupur, (9) Shibpur & (10) Gandhi Nagar.